Remember my Baked/Roasted Chicken recipe? I used lemongrass (tanglad) there.The I thought maybe some readers don't know what it is, so I am posting about it while I am thinking about it, especially that my hubby always buys roaster chicken now (he really loves my baked chicken!)
My friend Ana divided her plant and gave half to me. I place in in a potting plant and nurtured it. Then during winter, Ana and her spouse spent the season in a less colder place, and her indoor plants were taken care of by her sister-in-law, who watered them as needed. However, she forgot to lock the door, which was blown open by the wind, killing all Ana's indoor plants. Good thing that I have propagated mine (so that I have made two pots already). And in several weeks I can further divide the two pots. Now I wonder what I will do with my extra plants? I hope I will meet more Pinays in my area to whom I can give my excess plants/produce.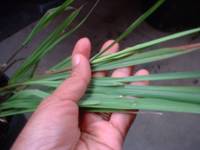 So maybe some of you will decide to plant one inside the house, too. It's quite easy to maintain. Just have a handy small bag of Miracle-Gro and water it (with the fertilizer, prepared according to the instruction) weekly or so depending on the dryness of the soil. When handling it, be careful as the blades are quite sharp and can cut your skin easily.